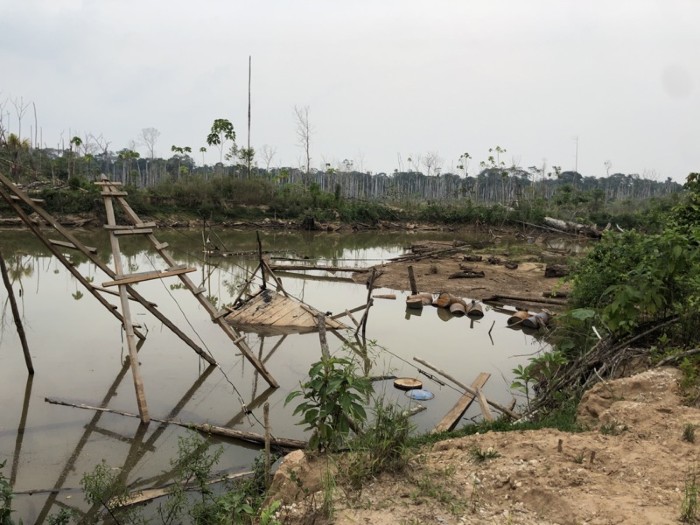 Lake and pond ecosystems created by artisanal gold miners in Peru convert a worrying amount of mercury — a common pollutant from mining operations — into a form that can be ingested by animals and people.
Small-scale and mostly illegal gold-mining operations in the Madre de Dios region of the southern Peruvian Amazon have transformed vast stretches of tropical forest into sandy landscapes pock-marked by ponds and lakes. Jacqueline Gerson at Duke University in North Carolina, Simon Topp at the University of North Carolina at Chapel Hill and their colleagues wanted to understand how effectively microbes in these ecosystems process mercury into methylmercury, which accumulates in the food web. They analysed landscape changes from 1985 to 2018, and collected water and sediment samples from rivers, natural oxbow lakes and mining ponds, both upstream and downstream of mining operations.
They found that the area covered by ponds and lakes in heavily mined watersheds had increased by 670% since 1985, and that the rate at which mercury pollution is converted into methylmercury is roughly six times greater in lake ecosystems than in rivers.
Landscape changes caused by artisanal mining represent an important and previously unrecognized risk of mercury exposure, the researchers say.