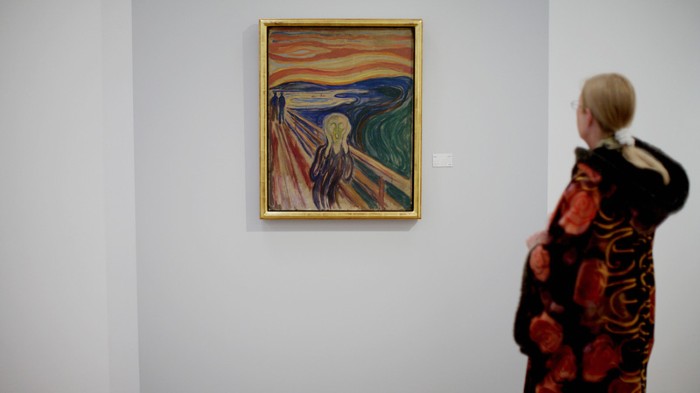 Bright yellow hues that once screamed from Edvard Munch's iconic painting The Scream have become muted over time. The culprit: chemical reactions spurred by humidity.
Munch portrayed the now-faded yellows of the Sun setting over a lake with a pigment containing cadmium sulfide. Letizia Monico and Costanza Miliani at the Italian National Research Council in Perugia and their colleagues analysed the version of The Scream at the Munch Museum in Oslo by imaging the painting with light of various wavelengths. The team also scraped six minuscule paint flakes off the work and probed them with intense radiation. The analysis revealed that the painting's yellow cadmium sulfide had been partially transformed into other cadmium compounds that are whitish in colour.
The researchers performed similar analyses on a sample of cadmium-yellow paint from one of Munch's own paint tubes and another prepared using an early-twentieth-century pigment. Because of a certain impurity in both paints, the cadmium sulfide turned into white cadmium sulfate when exposed to high levels of humidity.
Although the painting is stable at standard levels of light, the researchers recommend storing it at a relative humidity of less than 45%.